Little Blue Truck's Springtime
---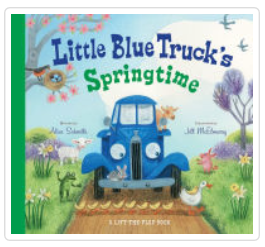 Saturday, March 23, 2019 at 11:00 am
Celebrate the beauty of springtime with Little Blue Truck! Young fans will love finding all sorts of baby animals beneath the flaps in this delightful novelty board book.
Join us for Storytime and a cookie coloring activity, while supplies last.
Plus, get a coupon from our Café for a grilled cheese sandwich with milk or juice for $4!
You Do You
March 19, 2019 through March 24, 2019
If you're on the hunt for the #GilaRoyalFlush to win $1,000 from Gila River Hotel & Casinos, we ...
Wednesday: Toddler Happy Hour
Now through April 3, 2019 | Awesome Toddlers
Toddler Happy Hour Every Wednesday at Awesome Toddlers From 1:00 pm to 3:00 pm Half Price Admi...