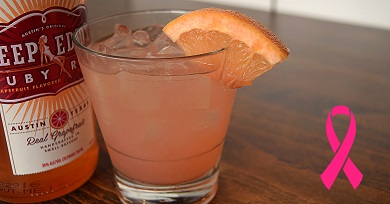 October is Breast Cancer Awareness Month
Now through October 31, 2017
The charity receiving the donations is Singleton Moms
DONATIONS:
$1 from each Fresh Pressed Greyhound and Wycliff Sparkling Rose sold will be donated to charity. Guests can also donate on the bottom of their guest check.

SPECIALTY DRINKS:
We will offer 2 featured pink drinks. $1 from each drink will be donated.
• Wycliff Sparkling Rosé and 
• Fresh Press Grapefruit Greyhound
PARTNERS:
Gallo Wines & Deep Eddy Vodka
Gallo Wines will be matching our donation amount for charity!
CHARITY:
In Arizona, we will partner with a local charity, Singleton Moms.
Singleton Moms is a small, Arizona-based non-profit dedicated to nurturing single parents battling cancer and their minor children. They do this by meeting the practical day-to-day needs of the entire family, while providing hope for tomorrow.
Servers and bartenders will be wearing pink ribbons and aprons.This promotion runs from October 1st - October 31st.