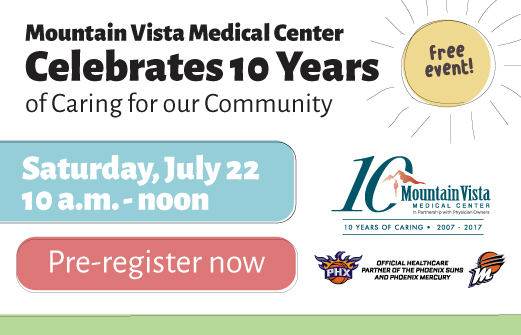 Mountain Vista Medical Center Celebrates 10 Years!
July 22, 2017 10:00 AM - 12:00 PM
Join Mountain Vista Medical Center for a free family event on Saturday, July 22 from 10 a.m. to noon. By pre-registering here, you will be entered for a chance to win a $100 Visa gift card and other prizes. (Medicare members and IASIS Healthcare employees are not eligible to win the gift card.)
Event Highlights:
Kids games and crafts
Entertainment and face painting
Mesa Fire & Medical Dept. truck tours
Meet Family medicine, Orthopaedic and women's health doctors
Interact with the MAKO robot used for total hip and knee replacements
Special appearances by Phoenix Mercury mascot Scorch and Phoenix Suns mascot Go
Shop select Dillard's merchandise on site at the event. (Proceeds benefit the Mountain Vista Medical Center Auxiliary's Nursing Scholarship)
Please park on the east side of the hospital and enter through the doors marked Outpatient Entrance.