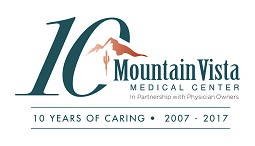 FREE Women's Health and Wellness Expo
Now through May 6, 2017
Women of all ages are invited for complimentary screenings, health, wellness & beauty exhibits, brunch items and mocktails, infant and child safety resources and car seat inspections.

WHY: Overextended. Overstressed. Overworked. These words are a reality for many women who are living in overdrive, taking care of their
families, working 40+ hours per week, and ensuring their household is running smoothly. While they're well aware of their long list of responsibilities, not many are aware of their own health status.

WHAT: To help women reconnect with their bodies, minds and spirit, Mountain Vista Medical Center is holding its third-annual Women's Health and Wellness Expo.

This FREE event offers a true 360-degree view of women's health, covering wellness topics that most impact females of all ages. During the expo, women will have the chance to undergo health screenings and learn easy-to-implement tips to improve their health and wellness.

In addition to the screenings, the event will feature several free physician-led seminars about a variety of important women's health and wellness topics, including:


8:30 a.m. Women's Health at All Ages presented by Maria Vogt-Roberts, CNM
9:05 a.m. Depression and Anxiety presented by Suzanne Northey, M.S., LMFT
9:40 a.m. Understanding Infertility presented by Manisha Purohit, M.D.
10:15 a.m. Healing Your Body Through Food Choices presented by Jaime Parker, Ph.D., C.P.T. and Victoria Barrios, C.P.T.
10:50 a.m. Makeover Your Kitchen For Better Health presented by Jaime Parker, Ph.D., C.P.T. and Victoria Barrios, C.P.T.
11:25 a.m. Preparing for Pregnancy and Understanding High-Risk Pregnancies presented by Holly Todd, WHNP and Richard Blumrick, M.D.

Mountain Vista Medical Center also will offer health, wellness and beauty exhibits including express facials, chair massages, and mini makeovers with beauty tips and manicures and special performances by the Phoenix Suns' Golden Grannies and Phoenix Mercury Hip Hop Squad.

Busy moms (as well as dads, expectant parents and caregivers) can also find a little more peace of mind when it comes to their little ones by having their child safety seat checked by a certified child safety seat technician and obtaining educational materials for infants and children. Appointments are required.

WHERE: Mountain Vista Medical Center, 1301 S. Crismon Road, Mesa, Arizona 85209 (just north of the U.S. 60 at Crismon Road and Southern Avenue) .

The event will be held in the Outpatient Lobby Entrance, which is located on the east side of the hospital on Saturday, May 6th from 8am-12noon.
Register by clicking here.